Here's what I am reading: "The Morgan Lewis Investigation Report into Allegations of Misconduct at Hebrew Union College-Jewish Institute of Religion".
That mouthful is the title of an independent investigation of sexual harassment, gender bias, and other forms of inequitable treatment at Hebrew Union College-Jewish Institute of Religion, the Reform Movement's seminary. HUC-JIR, as it is known, is where a significant number of our clergy and education staff attended and where congregants have held leadership roles. Found here, the report was prepared in the aftermath of the death of a well-known HUC professor nine months ago.
There had been complaints for decades about sexism and sexual impropriety by this professor and other HUC faculty, and the outcry after his death prompted this report.It is not an enjoyable read. But it is essential which is why it is accessible to the public so the over 170 people who shared their experiences that ranged from microaggresions to outright touching could be heard.
Here's what I am watching: THE BEATLES: GET BACK, Peter Jackson's eight-hour documentary.
If you've been watching the footage, you have witnessed how Yoko Ono is awkwardly there. Paul has always been my favorite Beatle but in the new Disney+ series, I can't keep my eyes off Yoko Ono. Why? Something in the way she moves epitomizes for me what it feels like to try and raise a conversation about gender equity, sexism and harassment for a woman in the world. Ono looks awkward and uncomfortable and when she expresses herself, especially through her singing, it comes out screechy and whiny.
I approach writing this Shabbat message with the awkwardness of Yoko Ono at a Beatles recording session. And as eloquent and earnest as I try to be in whatever realm about this topic, talking about this reality for women has led to some of the most uncomfortable, unproductive conversations of my life.
Here's what I am resonating with: This week's Torah portion brings us Joseph on the brink of revealing his identity to his brothers who have come to Egypt. He totally loses it.
Genesis 45:1 reads, "Then Joseph could not refrain himself before all them that stood by him; and he cried: 'Cause every man to go out from me.' And there stood no man with him, while Joseph made himself known to his brothers."
Joseph's professional role as VP of Egypt and his personal story of alienation from his jealous brothers clash in this moment. He wants to keep it together and act as a pro but he is full of hurt. He is looking at the siblings who very nearly murdered him and did a little less bad in selling him into slavery. In this moment, he has achieved personal success, but the painful wounds do not go away. We have a front row seat to all that anguish.
While over 170 of my colleagues experienced the actions that necessitated the report, I experienced zero of this behavior when I was in rabbinical school. It's funny because I experienced uncomfortable situations in college and have experienced moments in my professional life that would merit examination like that in this report, but during my time at HUC-JIR …never anything.
What has happened for many female rabbis, whether they came forward to be interviewed for the report or not, is that there is deep shock and hurt. The descriptions in this report of what the people that were supposed to be educating us did to some of their students is often repulsive and even disgusting at times. And chances are if you are a woman in the work world, something you read here will trigger a reminder of something that happened at some point somewhere in time.
Like Joseph, female rabbis are working to maintain their professionalism while dealing with these triggers, and seething with the neglect our very own branch of Judaism perpetuated in its institutions. 
Here's what I will keep doing: A year before the MeToo story broke, my daughter and I started distributing pink hairbands that say "I HAVE YOUR BACK".
As a mother of a daughter, I never wanted her to experience the things women of my generation and before experienced. Our hairbands are given in pairs, one from us to you and one from you to give to someone else, so if anyone ever finds themselves put in a harassing or uncomfortable situation, they have someone to tell.
But here's what separates my generation from hers. Sometimes we told. Sometimes something happened after we told, but often it did not. If the institution that is supposed to educate the future leaders of our synagogues didn't take action, I can only imagine what wide and vast inaction took hold.
Joseph and his wife Osnat had two sons in Egypt. Their names were Ephraim and Menashe. They were the first brothers that got along in the Torah. They broke the cycle that started with the first biblical siblings Cain and Abel and continued until their dad's lifetime. They witnessed the end of a destructive behavior.
I can only hope that it is the same for my daughter and her generation. That they witness the end of a destructive behavior and instead look upon what happened once upon a time with as much historical and emotional distance as she probably feels about, well, the Beatles.
Shabbat Shalom,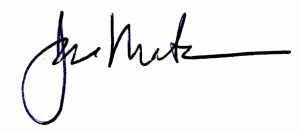 Rabbi Jessica Spitalnic Mates
Temple Beth El of Boca Raton