A regular blog series from Temple Beth El, bringing you moments of heart and insight from
Rabbi Emeritus Merle E. Singer.
What would life be if it were a simple path where all the intricate pieces perfectly fit? Just a simple path with no worry in sight. Some may ponder the blissfulness of perfectionism, yet if that were life's definition, I think it would be but a farce. 
Life is about living, experiencing, feeling emotions, embracing the good, the hardships, loss, ups and downs, learning, and thriving. 
With gratitude, we should be humbled and thankful for each challenge and transition we encounter. And for that, one may wonder why. Why be grateful for challenges? Well, the answer is simple. Through the un-even paths we journey in life, we teach ourselves our greatest lessons while developing into a wiser and more robust version of ourselves. Life is about learning; the teachings carry us on. 
"Yesterday I was clever, so I wanted to change the world. Today I am wise, so I am changing myself." – Rumi
In the past year, transitions have been a constant in my world. I am moving through each day with my wife in my heart, yet missing her physical presence. I find the greatest joy when relishing the moments we shared as a couple, as parents, as grandparents, and in the other roles we fostered. 
One must never forget to champion forward despite battles presented our way.
Often, and most recently, I have experienced and witnessed how challenges reward us with new opportunities in our life's trajectory. Thus, we must never lose hope for ourselves, but just as integral, we must never lose hope or faith in others. Oh, how simple it is to use a lens of judgment over empathy, but we need to hold fast to the values of compassion and kindness to others, no matter the circumstance. 
For each transition I have faced, I have unknowingly and perhaps knowingly grown and evolved despite my older age. The day we stop learning is the day of our last breath. The wisest person continues to grow not out of ego but out of the goodness of what we can obtain and the goodness of what we can offer. 
What transitions have you faced, and how have they altered you for the better? I implore you to see the glass half full; it is a must! 
As I transition to a new home setting, I know the love and care of family, dear friends, and associates help make this assimilation possible. The grandest thing I am constantly reminded of in times of challenge is seeking support to help manage new ground and new beginnings. If one reaches out to you, respond as you are revered in their eyes. If able, and as I have urged in prior pieces, be a helping hand to others as it is a commandment of the Torah. 
When we work as one, the communal sphere of love and kindness offers ripple effects near and far.
May today's words remind you that transitions are a solid foundation for growth. When we face challenges, those obstacles offer us the platform to aspire to greatness…and what better path to journey when looking forward with optimism? I am fortunate to have experienced transitions as they mold the foundation of new chapters. I am fortunate to have aided friends and community members in their life transitions observing their determination toward greatness as my inspiration. Lest I remind myself and others, never lose hope. 
Transitions are a part of life. As many poets and authors have shared before me, treat each moment like an opulent gift from the heart. Treat each human with sincere kindness and appreciate the value of time, as time and people are precious commodities. What is today is not guaranteed for tomorrow. 
Through life's transitions, we carry on to our best. Thus, I state: Remain hopeful. Remain kind. Remain good to others. Remain the light we need. Remain loving to all. That alone procures the positivity and strength we all deserve.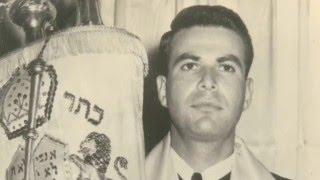 Rabbi Merle E. Singer is Temple Beth El's Rabbi Emeritus. He retired in 2005 after serving as the Temple's senior spiritual leader for 28 years.  During that time, the Temple grew from a small congregation to one of the largest and most vibrant synagogues in the United States.